Friday, April 16, 2010
I've just finished the first week of my residency at the absolutely fantastic
firstsite
and apart from being exhausted I'm also delighted with how it's going.
For one thing, because it's the second week of the schools' Easter hols, kids & parents have been flooding in and helping me out.
Having been commissioned to produce a comic work about Colchester and its people, I was really keen to get everyone who walked in the doors of the studio involved. The first phase of this plan required interested participants (and there has been
no
shortage of them) to produce short autobiographical comics.

How I've been coaxing people into drawing comics...
I'm in awe of how creative and hard-working all of the artists involved have been. This morning a mum and her son stayed for over
three hours
toiling away on their pieces, and it was absolutely worth the effort as both were incredible:


This was the artist's first time painting since school!
This is what the studio looks like in a rare quiet moment. I'd have taken photos when it was manic but I was too busy talking about comics and being covered in paint. Such is the life of an artist...
And this is my window. Drawing in the glass comics panel attracts quite a crowd. And I've already been told off once for leaving a bracket unclosed (many thanks to the young lady who sorted that for me).
Other amazing things that have happened to me this week include meeting Pat Mills (lovely bloke), being privileged to hear some absolutely great talks - all part of the
WHAAM season
here in Colchester - and hilarious, delicious, outrageous meals with Jes and Cath of firstsite, Martin of
ACE Comics
and Simon Grennan of
Grennan and Sperandio
.
That's it for this post. I'm back at my B&B and gearing up for a Friday night in Colchester.
I'm back in the studio tomorrow, so if you're in the area please pop in and say hi!
(Oh and if you're going to the
Fleece Station
party tomorrow, I'll hopefully see you there!)
Saturday, April 10, 2010
Anyone walking down Short Wyre Street in Colchester might well have noticed my name in large dayglo pink letters in the window of
firstsite
's fantastic headquarters. This is because I'm the artist-in -residence there for the next few of weeks.
I'm not in the studio every day, but if you do want to catch me at t5he moment I'm scheduled to be in on the 12, 13, 15, 16, 17, 21, 22, 23, 24, 26, 27 and 28 April. I'm also running a masterclass on comics storytelling on the 24th - places are limited so book now!
Saturday, February 13, 2010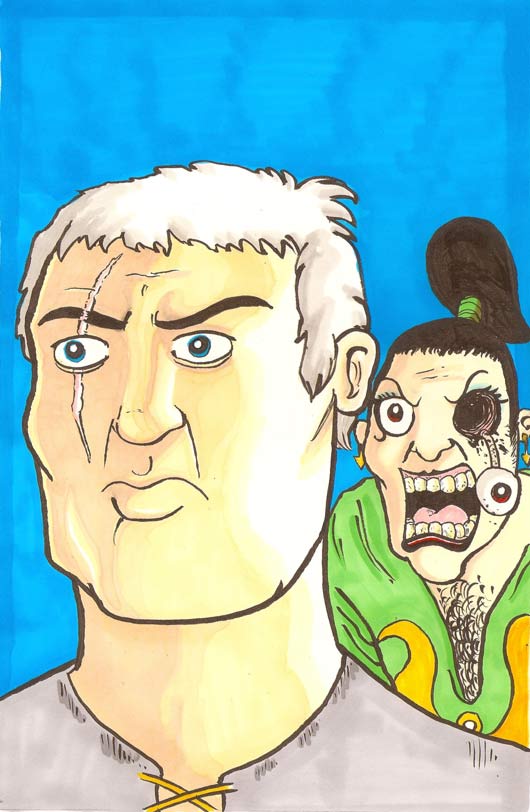 I got back from the Phonogram wake in town last night to find this in my inbox. Isn't it brilliant? Kind of makes me wish that I'd asked Oliver Lambden to draw the whole of Tongue of the Dead. I reckon it would have looked amazing!
Oliver is the art brains behind Tales from the Flat, Curtis Terrorist, BLOC and the Dan Lester Mysteries. He's also a gangster of the highest order and a top bloke.
This is his blog
and
this is his web site
. Next time you see him beg for the chance to buy some of his comics. He's that good!
Friday, February 12, 2010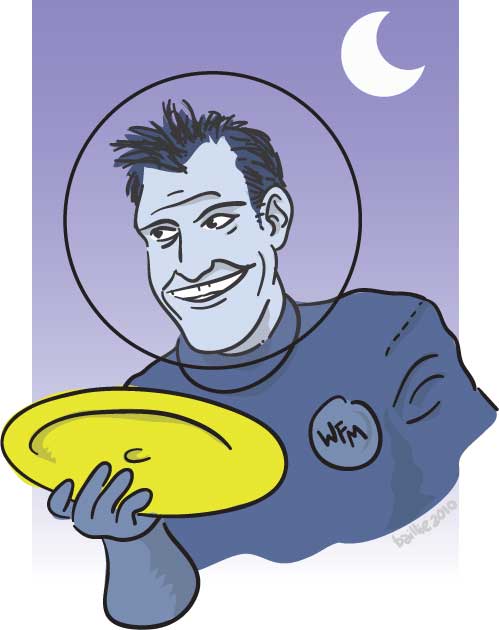 Sometimes I do a morning sketch to loosen up before a day at the drawing table. Today I decided to make it a tribute to Walter Frederick Morrison who died on Tuesday. I hadn't heard of him before reading
this
, but he sounds like a great guy, invented the frisbee and took a mean photo. No really - click on the link and see the photo, it's great!
Today I'll be mostly working on two pitches. Not for TV or comics though, weirdly.
Oh and designing a logo for a well-known indie band who are making a comeback - although that's not a done deal so if I never mention it again I didn't get the gig.
Have a good weekend!
Wednesday, February 03, 2010
So this Monday was
Hourly Comics Day
.
I did one, but didn't quite finish it until the next day, when I realised that I hadn't really followed the rules at all. (Mostly because I hadn't read 'em.) So this is my pseudo-Hourly Comics Day comic strip.
It's green.



Friday, January 29, 2010
Morning all.
I'll finish the posts about the Casita Variations soon, but I've been caught in a fight to the death with some deadlines this week so I'll just offer some links instead...
I generally hate motivational self help books/websites but I really like
Tiny Buddha
. For example I enjoyed reading this post about
Living Your Life Out Loud
. But, as with most lists with more than four or five items, it kind of runs out of steam before the half way mark. (Your mileage may vary.)
Something else I quite like is Twitter. I keep meaning to talk about it here (which I suppose is what I'm doing now) but rather than drone on I'll just link you to
Clive Barker
, whose tweets are never less than interesting. He delivered the following over three messages this morning from L.A.
The great German actress Lotte Lenya told a story about her life that I've always believed contained an undeniable truth. She worked furiously to become a success. Finally she saw her name on a huge bill-board.'Is that all ?'she said. 'I feel nothing.' My experience is the reverse of that. As a young man,success felt empty. Now, I equate it with having a presence in the lives of others.
How to Keep Your Brain Smart
.
Please, please, please visit the
Sleep Talking Man
blog. You can thank me later.
I'm going to risk looking like a self help junky and also link to the
best Zen Habit posts of 2009
.
T
he best Simpsons quotes of all time
.
And (I dunno if I posted this already, but its good) -
an artist takes acid
.
Oh and Melissa Auf der Mar. Yup.
----------------
Now playing:
Melissa Auf der maur Ė Followed The Waves
via FoxyTunes
Tuesday, January 12, 2010
The Casita Inauguration and Operation Glasgow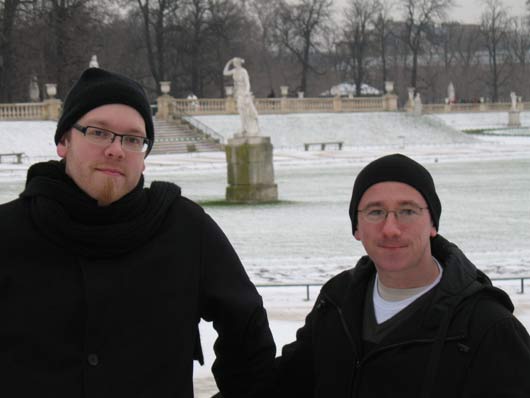 the artists relax at Jardin du Luxembourg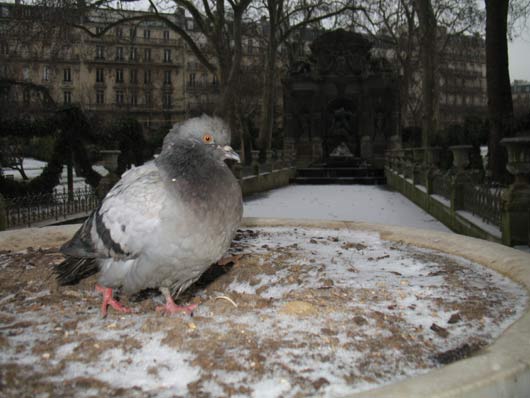 and a pigeon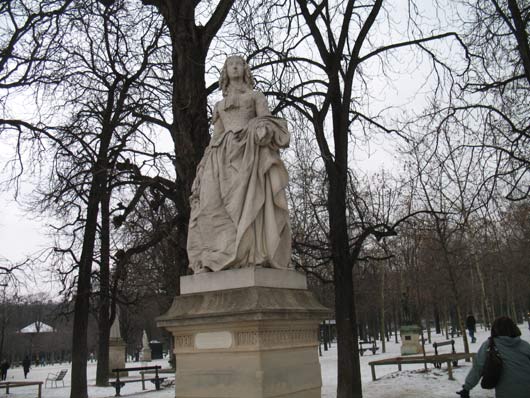 and a lovely statue

The Casita Grand Opening yesterday went very well indeed. It was fantastic to see our work on the walls of the hospital and to hear stories about how the panels have been used and received by the psychiatrists and patients.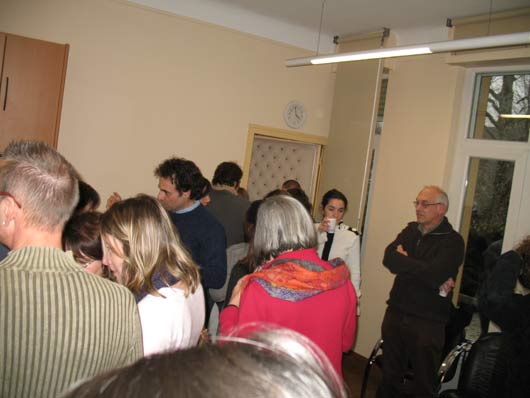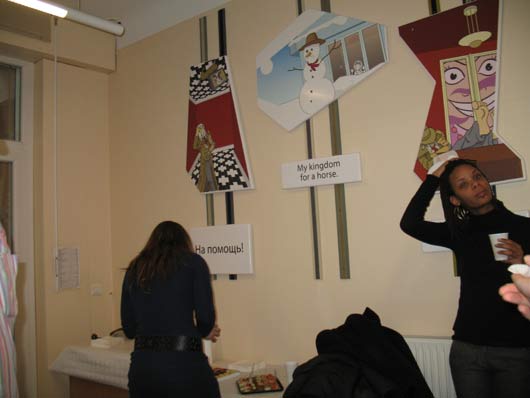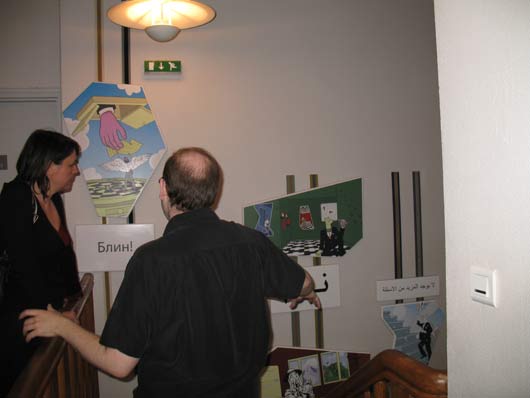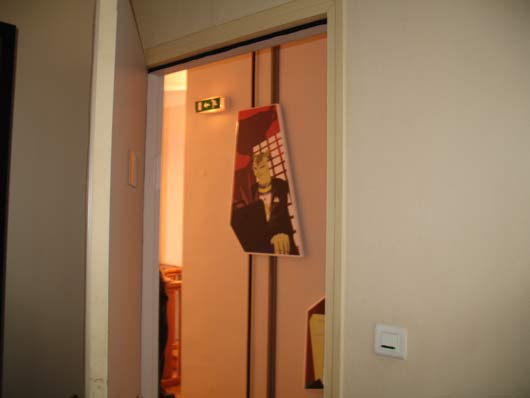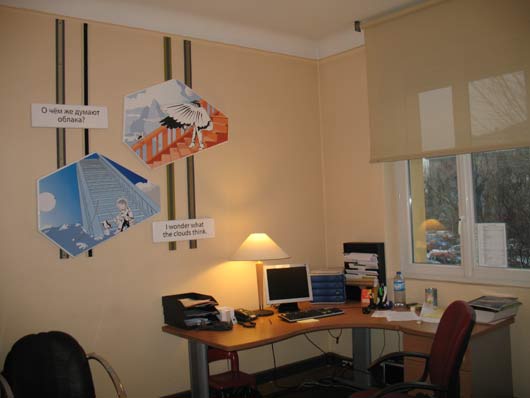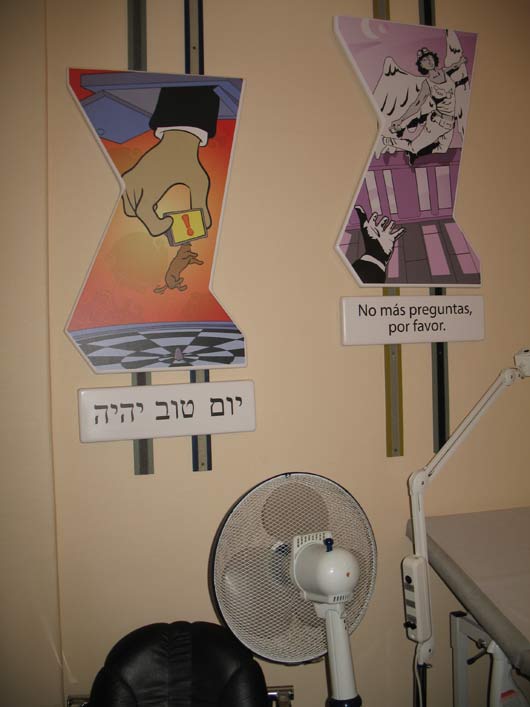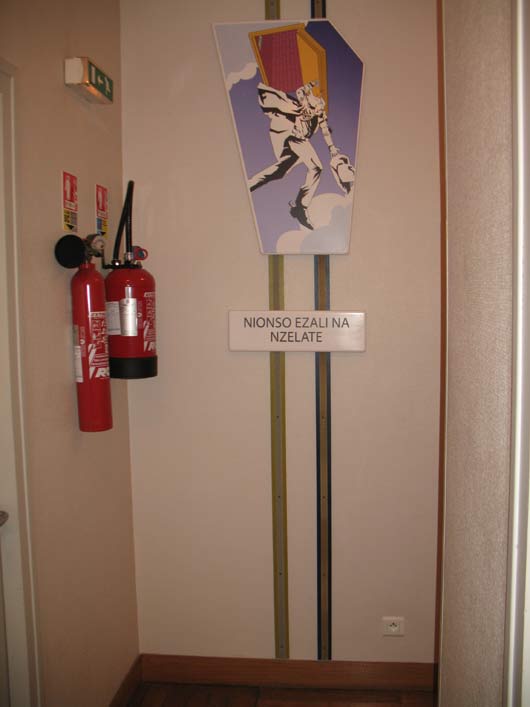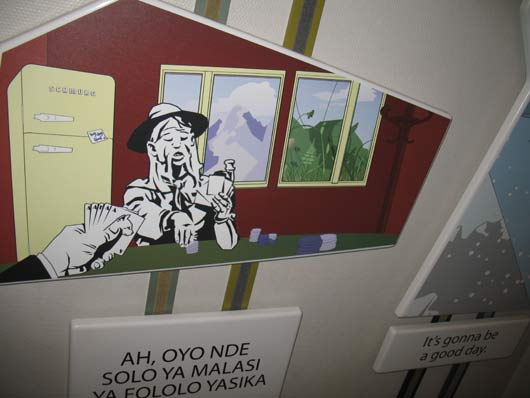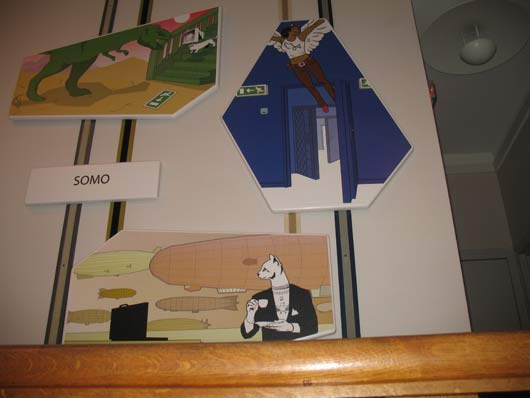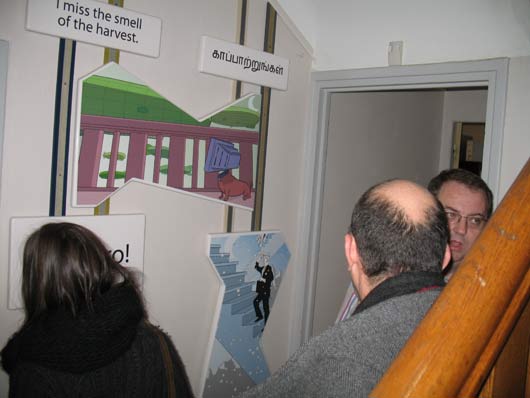 Iíd just like to take this opportunity to thank the great folks at Casita and Hopital Avicenne for giving us this chance to work on such an exciting project and giving us the most amazing amount of creative freedom. It was a fantastic experience, both professionally and personally, and Iím absolutely delighted with how it turned out.
Iíll hopefully get to write part 3 of my dissection of our creative process before the end of the week.
Iím just about to head out and try and catch an early Eurostar back to London, from where Iíll be catching a train to Scotland because on Wednesday I have a meeting with the BBC in Glasgow.
You may or may not know this but Iíve been trying on and off for a couple of years to break into the world of television. The commonly received wisdom (especially among what has come to be known as the blogosphere) is that talent-spotting competitions are one of the best ways of doing so.
About eighteen months ago I was shortlisted for the prestigious Red Planet Prize, run by Tony Jordan, who regularly appears on annual top ten TV Ďmovers and shakersí lists. The first round of the competition required the first ten pages of a script, whch could wither be a film or serial episode, as long as it was original. It was the first television script Iíd written, but I felt quite comfortable taking what Iíd learned writing comics and working in a new medium, so I happily dashed off a scene and sent it in. I was thrilled when my entry was selected to proceed to the next round but also shocked to find out that they wanted the next forty pages right away. Flustered, I asked if I could have 48 hours to polish what I had (which of course was nothing at all) and spent the next two days in a coffee-fuelled frenzy breaking the back of the story and spewing it onto the page.
I didnít win (and that should come as no surprise) but was one of a handful of writers selected from, I think, two thousand, to be invited to a meeting with Red Planet and Tony Jordan. At the time I hadnít really seen much recent television Ė schoolboy error, right? Ė and sat baffled as my peers discussed bodice busters and soaps, the names of which didnít even ring any bells for me. What I remember most is that Mr Jordan explicitly said that each and every one of us was definitely good enough to write for television and should be talking to, for example, the guys at Eastenders. I floated back to London on a bubble of contentment.
I started writing a new project, hoping to pitch it to them, but unfortunately it was about the Global Credit Crunch and every time I came up with some fantastic turn of events reality would outfox me. I tried my hand at another project and was gutted to hear that Iíd been beaten to the punch by just-about-appear FlashForward, which was using an idea similar enough to mine that there was no point in me continuing.
The script that got me in that door also got nominated and shortlisted for another couple of things Ė the most recent of which was the Bafta Rocliffe Forum Award at the Cheltenham Screenwriting Festival a few months ago.
Then along came Scotland Writes, which is an initiative designed to find new writers either born or living in Scotland. The brief this time was to write a sixty-minute opening episode for a drama that in some way reflects contemporary Scotland. Although it was very definitely on my radar, I was busy with other (bill-paying) stuff right up until a couple of weeks before the deadline and wasnít sure if Iíd have time to do it justice. Also, Iím ashamed to admit, a little bit of self-doubt was sabotaging me. Nevertheless I continued to make notes whenever inspiration struck me and slowly an idea formed.
One morning I woke up to find that I had a structure, characters and, I think, an engaging controlling idea. Cue a few days of feverish writing and the usual last minute crisis where I think itís crap and want to throw it all out. I handed it in to the BBC Writers Room office with 6 minutes left on the deadline clock. The lady on reception, recognising me from the last couple of times Iíd shown up breathless, sweating and clutching a script at 1654 on a Friday, laughed her arse off.
This is my life.
So anyway, I didnít win this one either, but I have been invited to Glasgow to meet with the Head of Scottish Drama among other BBC Scotland luminaries. I canít wait. I hope itís the start of something like a career in television. And I hope I actually get there.
Bloody snow.
Monday, January 11, 2010
The Casita Variations 2
Yesterday I decided to take a run through Paris before breakfast. Valerio, our gracious host for the weekend, suggested a leisurely jog around Jardin du Luxembourg. Unfortunately it was closed so I headed for the river and ran along the bankside. It being completely new running territory and I wasnít sure how far Iíd gone at any point or where I could reach without collapsing, but it was fun seeing places Iíd visited on previous trips last year like the Musee Dorsee.
All the while the Eiffel Tower sat there, tempted me. I suppose it would be a shame, I thought, if I donít make it there. It didnít look too far.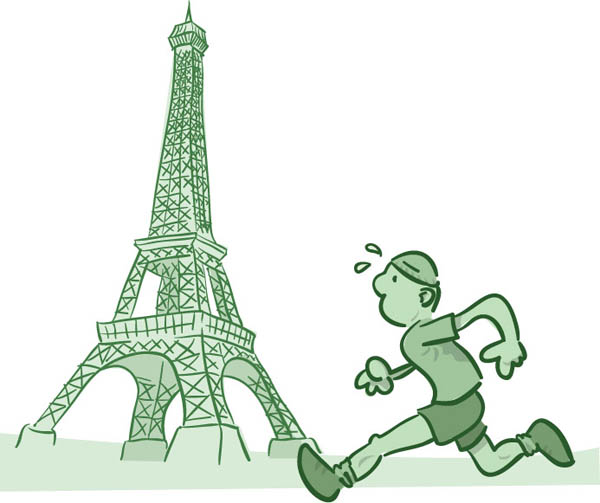 But no matter how far I ran it didnít seem to be getting any closer. And itís like waiting for a bus that never shows up Ė youíve waited an hour, whatís another ten minutes?
Eventually, after much exertion, I made it. I was so elated at reaching my destination, I decided that instead of taking the direct return route, Iíd go zig-zagging back through the streets. Of course I got lost about a dozen times and had to ask direction in my terrible, breathless French. Google maps reckons I ran about six miles. My aching body agrees.
And it was so cold that when I got in the shower, I noticed that any skin that had been exposed to the elements was glowing bright red. Is that bad?
Today is the grand opening of the Casita Variations. Being here again, and looking over the work for the first time in months, brings back very fond memories of how it all came together.
After receiving our brief and meeting with the attending psychiatrists it was an interesting task to try and pin down this ethereal project and decide on specifics. How many images? What size and shape would they be? Would we have recurring characters and if so how many? It was decided that, since part of the selling point of the proposal was that it would provide a sense of visual continuity through the hospital, we would restrict the narrative to four of five characters, who would occasionally interact. The characters had to represent a variety of ages and ethnicities so we created Mr Cat Suit, Birdy, Old Man Kansas, Space Girl and Goggles.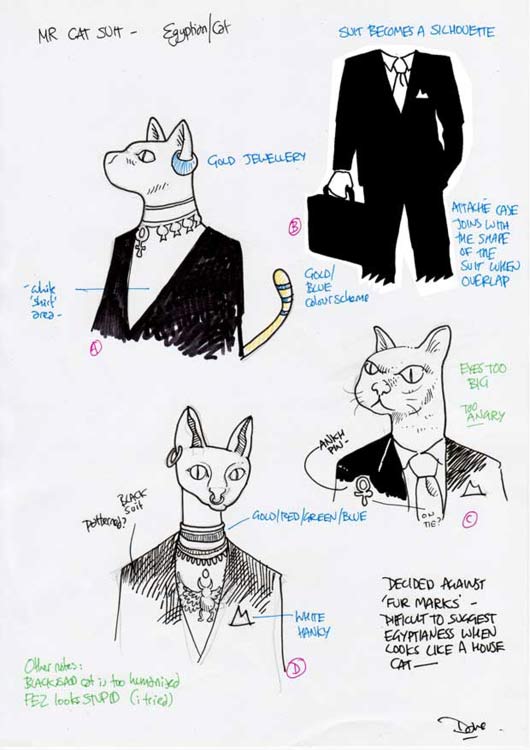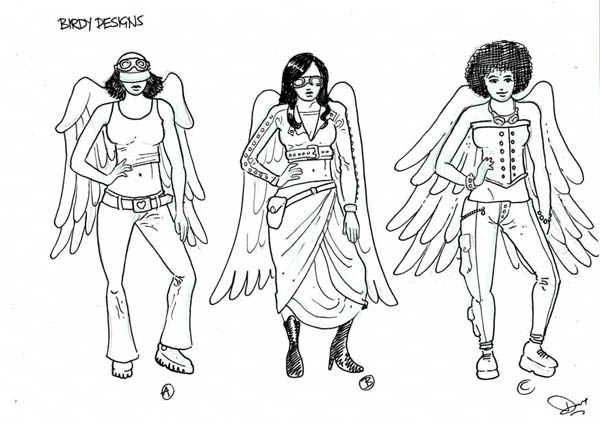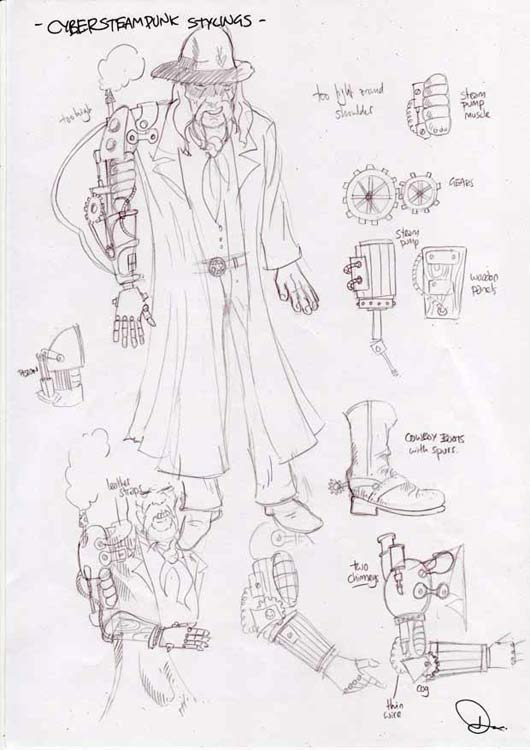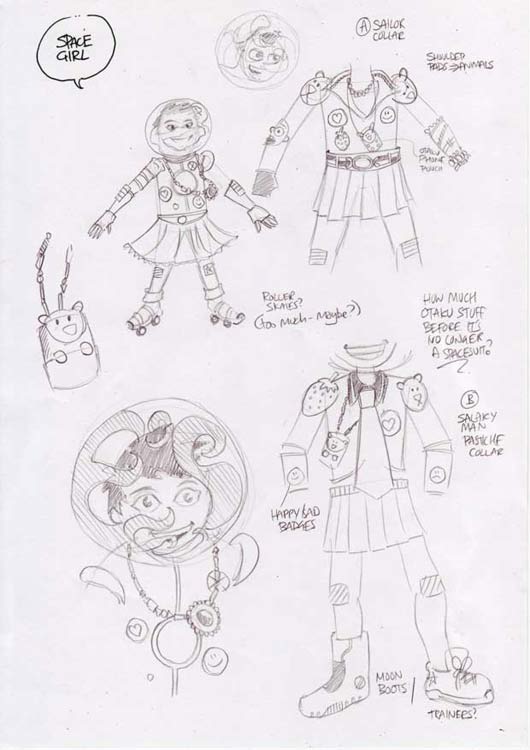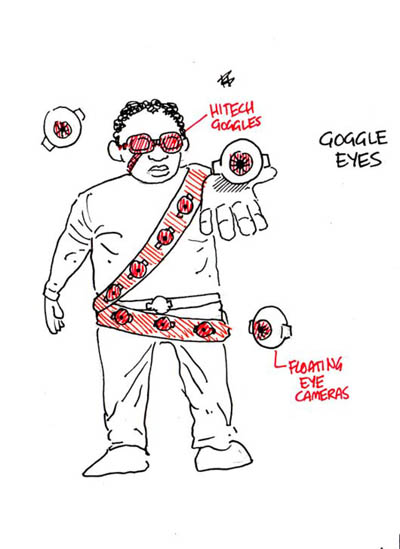 (please ignore the slightly wonky anatomy, these werenít intended for public consumption)
Goggles unfortunately didnít make it due to a non-human character suddenly being preferable. I canít remember if we gave TV Dog a name, but heís a dog with a TV for a head.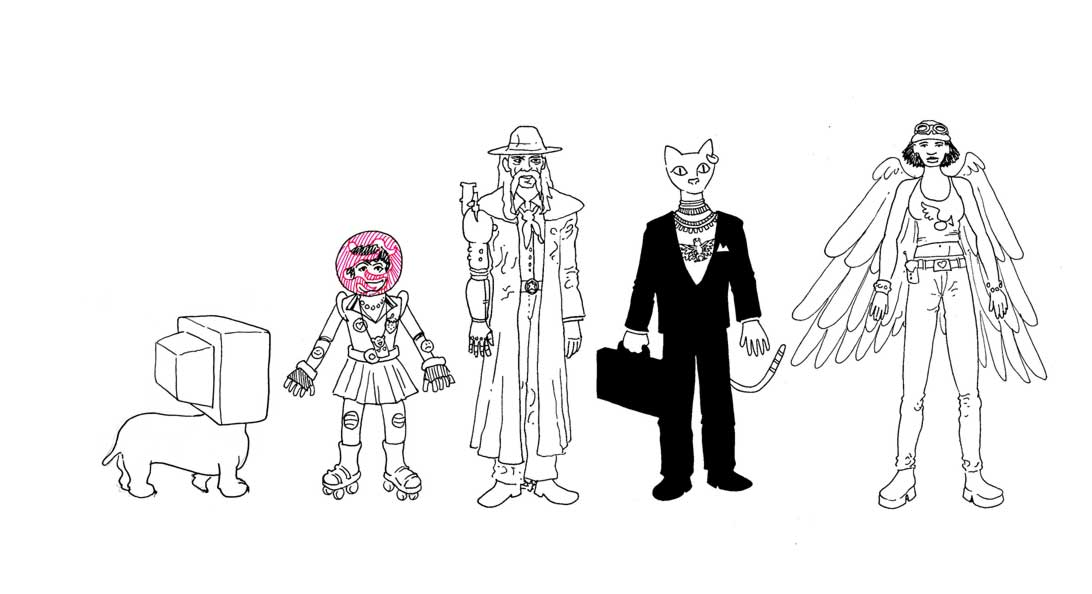 Our location, the Casita, was originally the house of, I think, the director of the hospital, and as such had some very un-hospital-like elements to its design and architecture. We were determined to use these distinct features and fittings in the art, and to contrast them with a more fantastic and surreal landscape which could be sometimes seen through a window or behind a banister.
I used Googleís SketchUp to model the corridors, doors, railings and floor of the Casita so that I could be sure they would look consistent throughout the pieces when I used them from different angles and distances.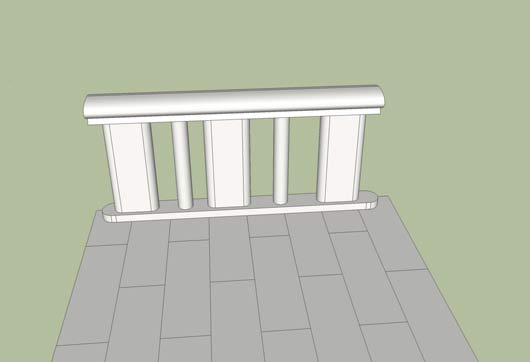 I have to stop now so that we can head off to the opening, but if you come back tomorrow, Iíll have some photos and a (probably slightly hungover) report of how it all went.
Iíll also shed some light on why, on Tuesday, Iím leaping straight from the Eurostar to a Glasgow-bound train headed for BBC Scotland.
Sunday, January 10, 2010
The Casita Variations
About 18 months ago Daniel Merlin Goodbrey, drinking buddy, web comics auteur and writer of Iron Man 2020, asked me if I was busy.
I was, since this was before the credit crunch destroyed the finances of freelance Britain, but asked what he had mind anyway. Hard cash and the chance to visit Paris was the answer. So I made some space in my schedule.
Mr G had been approached by virtuoso architect
Valerio Ferrari
about a proposed art installation in a Parisian hospital. His idea was that it would take the form of something like a web comic, but one that would be navigated by physically travelling through a space rather than clicking in a browser. The patients of the hospital were typically aged between twelve and twenty two and the psychologists commissioning the project were actively seeking something surreal, weird and thought provoking. It sounded too good to be true. But it wasn't.
So we visited Paris a few times, meeting the hospital staff, chatting for hours with Valerio and his glamorous colleague Virginie, and working through ideas. It was a demanding process, not least because we all wanted to produce something really special, and that meant refusing to settle for those ideas that come easily.
In the past I've had nightmarish experiences working on comittee-based projects, especially those were the boss comes in after weeks of work and throws the whole thing out just because he had soggy cornflakes that morning, but luckily that's not what this was at all. With Valerio and Virginie's expertise in physical installation (they'd just completed an Operatic stage design in Eastern Europe among other projects), Dan's understanding of interactive media and 'generative' storytelling and my own... erm... skills... We all brought something different to the table and inspired each other to leave our comfort zones and create something we couldn't have done on our own.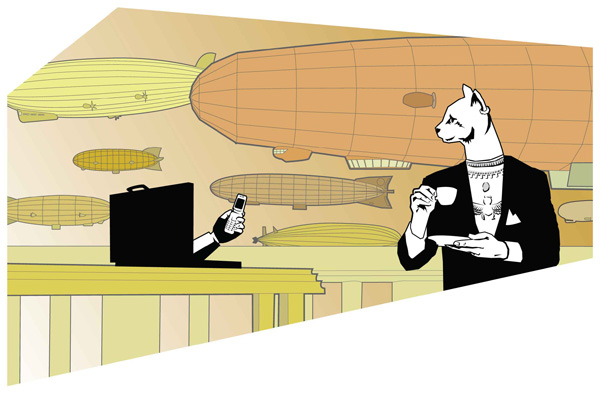 The project has been hanging on the walls of HŰpital Avicenne for a few months already but the grand opening is tomorrow, and Dan and I are both really excited to finally see it.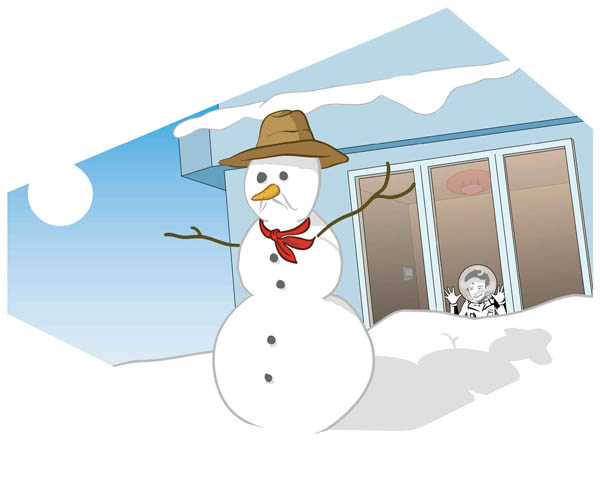 Iíll do another post later in the week with character designs, our process and show you some photos.
But enough about me. How are you?
Saturday, January 09, 2010
2010...
The year we make contact?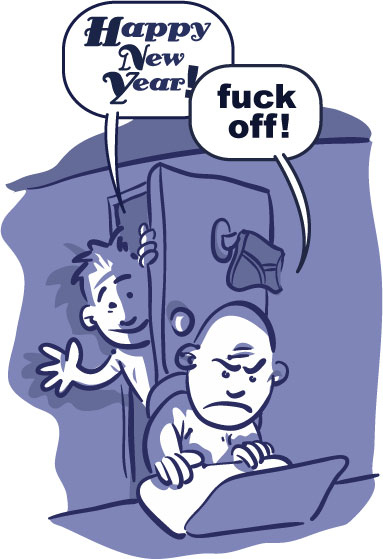 Well I haven't done this for while.
I kind of took a break from the whole online thing last year (Twitter, Facebook, blogging) mainly because I was feeling sorry for myself and I didn't want to turn into one of those people who use the internet as their personal whinging machine. Once in a while is fine, I suppose, but any more than two 'Oh God - poor me!' status updates and you can bet that 'friends' will start either blocking you or ignoring you. Which is exactly as it should be!
(I should probably point out that I haven't actually cheered up any, but I realise that if you don't appear online at least once a week these days people think you've died. And as much as it'd be nice to have some flowers in the house, I'd rather not find out just yet if I'd merit an obit on a comics website.)
(Although it was awesome to have my birthday noted on The Comics Report blog last year, an ambition of mine for the last few years!)
So 2010, eh? Can't believe we all made it. Apart from impending bankruptcy, my face wrinkling so quickly you'd think I'd been lying in a bath for a month and me still not experiencing anything that feels vaguely like success, I can't complain. It's always going to be a mixed bag, eh?
On the plus side I've lost a bit of weight and can now see my genitals without the aid of a mirror.
I'm currently on my way to Paris to see the grand opening of The Casita Variations, an art project that I worked on last year. And, despite the apocalyptic weather, the train has now left the station.
That's not a metaphor. I mean the train has actually left the station.
So my only new year's resolution is to be less fucking miserable. I turned 32 last year, not 102! If you see me in the back of a pub, raging about something completely inconsequential, please remind me of this.
I just wish the French guy in the seat next to me would stop farting. I'd move but the train is absolutely packed and the only other available seat has a flush. I'll be mainly holding my breath and admiring the blizzard outside for the next couple of hours then...
Oh - and
here is my 'Roundup of the Year' type thing
at the (absolutely awesome, even though they let me in) Forbidden Planet Blog.
(If you
click through the blog
you'll find far more enlightened opinions on what was the best stuff of 2009 from people you might actually have heard of!)
Tuesday, October 27, 2009
Hi there
The blog might be quiet for a few weeks as I struggle through a ton of work and start thinking about what I should be doing with myself next year, but in the meantime - some things:
If you're fast you'll still be able to catch this month's Judge Dredd in shops. It looks like this...
and contains an interview I conducted with legendary ABC Warriors artist Kev Walker. (My fifteen year old self would have exploded at the prospect!) It also contains articles by my good friends Matt Badham and Joel Meadows, and some ace comics. (I especially liked Gordon Rennie's new Bat Loco strip).
Also keep your eyes open for B.A.S.T.A.R.D.S. - a chunky new anthology of comics from some of the people who used to make up LUC. Fingers crossed it'll be on sale at next year's Angouleme festival in France, but it will also be available from contributing cartoonists at the
Comiket event taking place on the 8th of Nov at the ICA
.
It's a fiver and sports a brilliant cover by the immensely talented Francesca Cassavetti.
(And yeah - that's me with no top on leading the charge.)
OK - I'm off to return to my early mid-life crisis (or late quarter-life crisis), but before I go I'll leave you with this:
How to open a banana like a monkey
It'll change your life.
Sunday, August 30, 2009
Saturday, August 29, 2009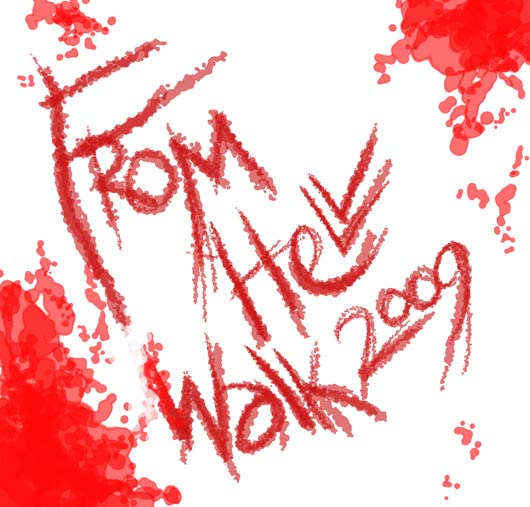 PART TWO
This
was the proposed route. It was foiled only by curry and beer.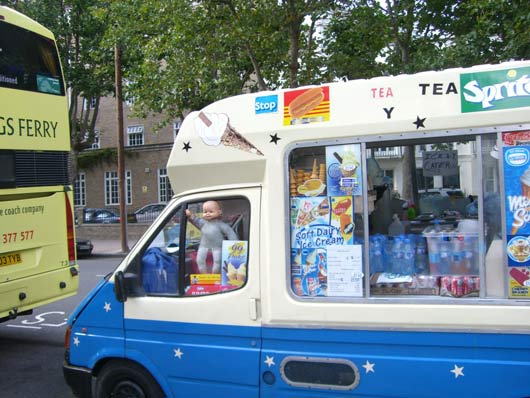 The creepiest ice cream van in the world?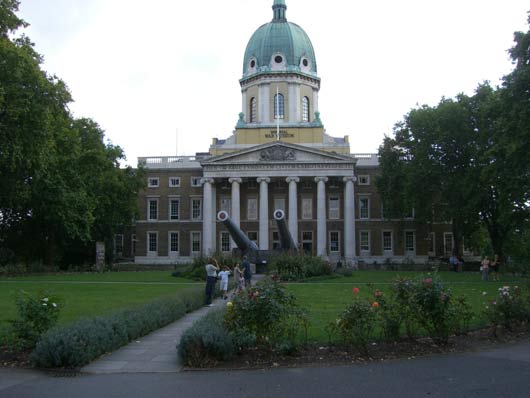 National War Museum (old Bedlam)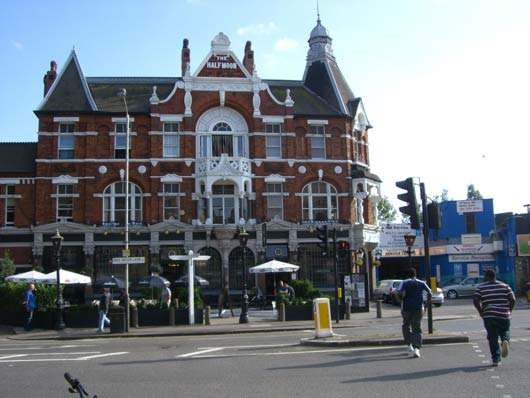 Luckily there was a pub at this corner of the pentacle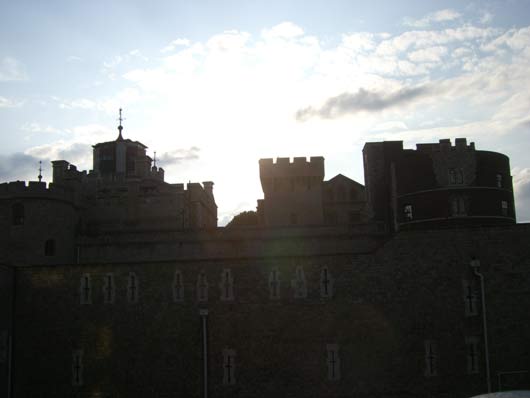 Tower of London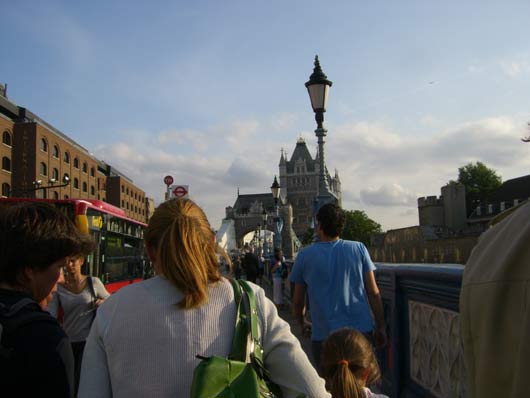 People on the bridge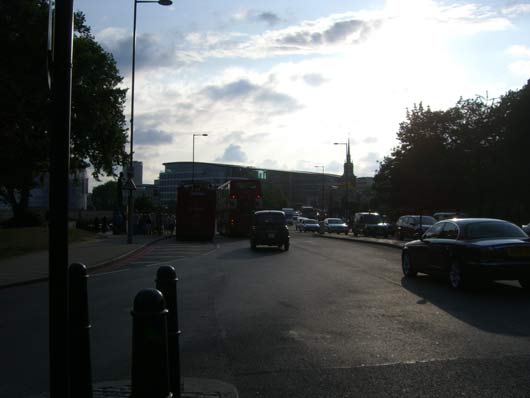 Losing the light as we hit the DLR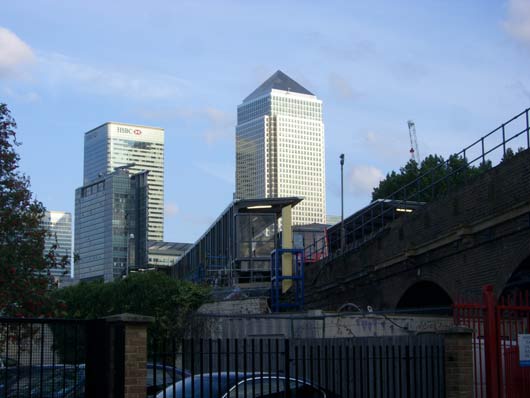 The Canary Wolf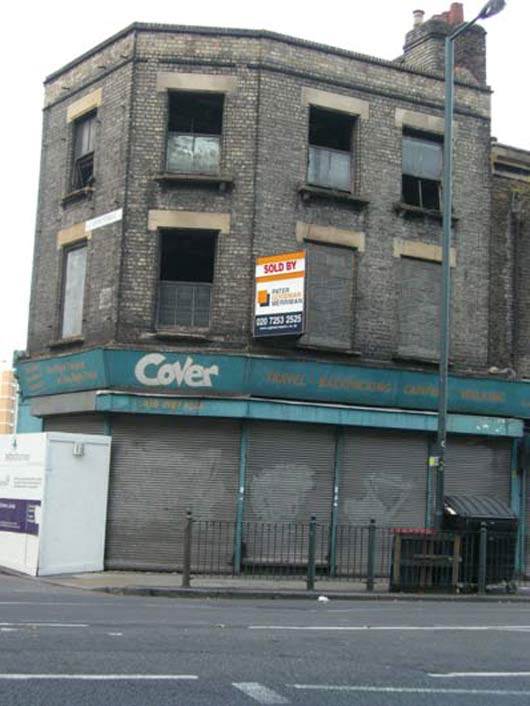 Limehouse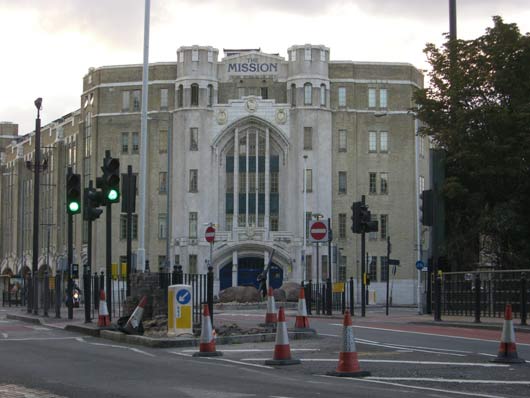 The Mission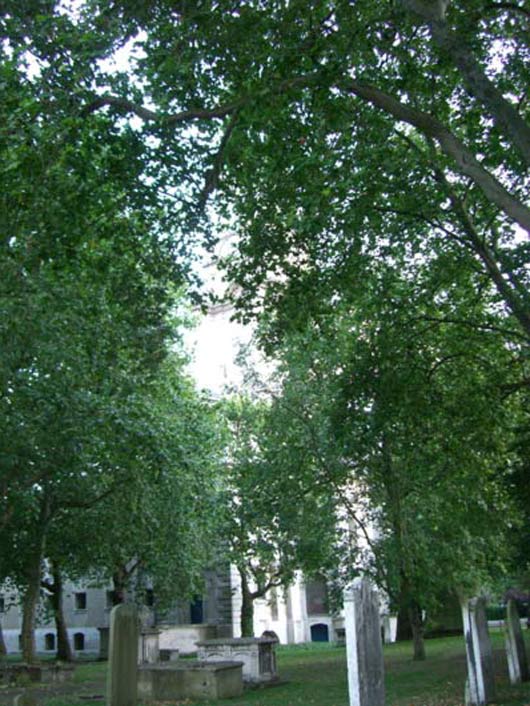 Penultimate Hawksmoor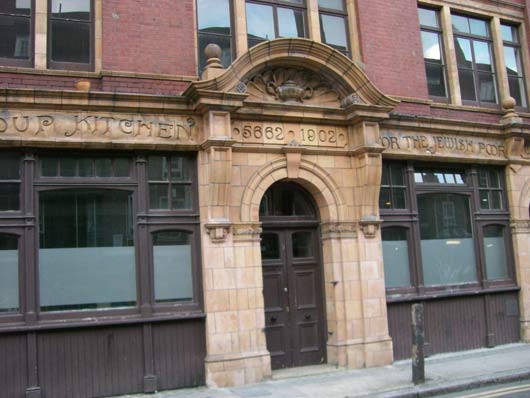 Soup Kitchen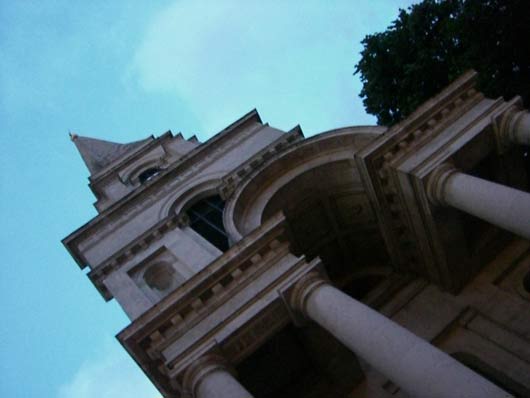 Christ Church, Spitalfields
And with that we were done.